The History
of
Brown Chapel AME Church
1862 – 2012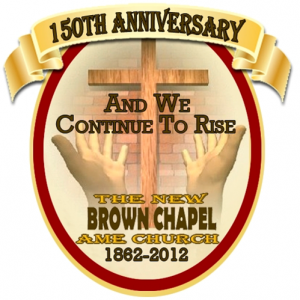 O give thanks to the Lord, for he is good;
for his steadfast love endures forever! Psalm 107:1
Contact Brown Chapel AME Church for soft-cover copy of this History Book and a Commemorative DVD.
This shall be written for the generation to come;
and the people which shall be created shall praise the Lord.
Psalm 102:18
Introduction
The African Methodist Episcopal Church was born Sunday, November 4, 1787. Richard Allen (above, left), Absalom Jones and other persons of color walked out of St. George's Methodist Church because of racism and organized Bethel Church at 6th and Lombard Streets in Philadelphia, Pennsylvania. In 1816, the AME Church was incorporated and on April 11 of that year Richard Allen was elected and consecrated the first Bishop. His wife, Sarah B. Allen (above, right) was the first missionary in the church. A remarkable wife and mother, her first missionary project was to look after the physical condition of the preachers whom her husband sent out into the field. Many of them returned in very poor condition and she organized the women of the church to mend their clothes and provide them with hot meals.
Following the example of Bethel, other congregations sprang up throughout the United States. By 1824, missionaries made their way across the mountains and at the Philadelphia Annual Conference, six AME churches had been established in Ohio, one of which was in Cincinnati. Many others were to follow.
This is the story of Brown Chapel African Methodist Episcopal Church. Her history is rich and undeniably a major part of the city. It is interwoven with the continuing struggle of African Americans for freedom and equality and the development of Walnut Hills. Brown Chapel is the second oldest AME church in Cincinnati and has played a key role in the lives of many African Americans who have lived here for the last 150 years. Brown Chapel is one of fourteen churches in the Cincinnati Area District, in the South Ohio Conference. It is in the Third Episcopal District of the AME Church.
Early Years
During the latter part of the Civil War, the discriminatory pressures on African Americans were mounting. The country was torn with strife, conflicts and riots because of the division of the North and South over slavery. Cincinnati was no exception. The Ohio River was the dividing line between slavery and freedom and many clashes occurred between the black and white populations. Many African American families charted new courses for themselves to find freedom and acceptance and found their way to Cincinnati, to Walnut Hills specifically. Walnut Hills derives it name from a farm once owned by a Rev. James Kemper who settled on it in 1794. It was annexed to the City of Cincinnati in 1829.
Many African Americans were befriended by students at Lane Seminary which was established in 1829 to educate Presbyterian ministers. Many of its students were anti-slavery, favoring total integration over segregation and worked to promote the African American community.   Lane Seminary was to play a continuous and pivotal role throughout Brown Chapel's history. It had purchased 60 acres of land on Gilbert Avenue, between Chapel and Yale Streets where the Cadillac dealership stands today and Dr. Lyman Beecher, father of Harriet Beecher Stowe who wrote Uncle Tom's Cabin, was its first president. Both father and daughter were prominent abolitionists and appropriately, the area around their home on the corner of Gilbert and Foraker Avenues was inhabited by many African Americans who went on to set up many businesses in the neighborhood.
A small group of people felt the need for Christian leadership in Walnut Hills and the convenience of having an AME church in the neighborhood as Allen Temple, established in 1824, was located downtown at 6th and Broadway Streets. A prayer meeting was held at the home of Alexander Jackson and this group formed the nucleus of the organization that was soon to become Brown Chapel AME Church. The leader for these prayer meetings was Peter Harbeson, a class leader at Allen Temple. Since there was no church in the Walnut Hills area available on Sunday afternoons, the group met at the home of Mr. and Mrs. William Mundel.
On February 8, 1862, the formal organization of the church took place in the Kemper Lane home of Peter H. Clark, (right). In 1849, he was the first teacher hired to teach in the schools authorized by the state for African Americans. A civil rights leader, he was the first to realize the need for a high school for colored youth and began to advocate for its establishment. In the 1980s, the Cincinnati Public Schools named Clark Academy Montessori High School after him in recognition of his contributions to education and the community.
Rev. Grafton E. Graham, a pastor at Allen Temple, officiated at the occasion to establish the church we know today. Rev. Graham was a man of deep conviction, who served not only his church, but his community too. He had joined Allen Temple in 1860, during the height of the Civil War. Cincinnati was the site of many racial conflicts and riots and he played a pivotal role in reminding people to be patient and trust in the Lord. His belief became reality with the issuance of the Emancipation Proclamation on January 1, 1863.
Mr. Harbeson served faithfully as the first class leader and led the new church until the first minister was appointed. Those persons who formed the first class of Brown Chapel:
Hannah Bridgett
Alexander Jackson
Henry Bridgett
Eliza James
Julia Braxton
Mary Jordan
Catherine Clay
Aaron King
Susan Clay
Mary King
John Cooper
Martha Mitchell
Miree E. Davis

Nancy Mitchell
David Fox
Ellen Ann Mundel
Richard Gibbs
Lydia Mundel
Celia A. Gibbons
William H. Penn
Eliza Jones
Catherine Townsend
C. Jones
Mary Townsend
Henry Jones
Martha Wells
Although undocumented, it is believed that Brown Chapel was named for Morris Brown (right) who in 1831, took over the pastorate of Bethel AME in Philadelphia, following the death of Richard Allen. Consecrated a Bishop in 1828, he organized churches in the Midwest, and many AME churches and one AME college are named after him.
Rev. Phillip Tolliver arrived in 1863, after the annual conference and remained at Brown Chapel until 1866. During his tenure, the first building for worship was built on Whitlow Street which was located at the end of Preston Street. Whitlow Street was eliminated when Martin Luther King Drive was created.
In 1866, Rev. E.H. Pettegrew was appointed pastor and remained one year. Brown Chapel continued to grow as more blacks migrated to Walnut Hills. On April 18, 1867, Rev. Benjamin W. Arnett was appointed pastor of Brown Chapel at the Ohio Conference which met in Lexington, Kentucky. He was one of the most dynamic ministers of his time and beloved by his congregation. He was so popular; many visitors attended Brown Chapel just to hear him preach. The text of his first sermon was "Lord, Teach Us to Pray". One of his foremost accomplishments was formally organizing the Women's Missionary Society at Brown Chapel in 1869 although missionaries had worked at the church since 1862. He remained at Brown Chapel until 1870, returning to Cincinnati again in 1873 to pastor at Allen Temple AME Church.
When the 1888 General Conference convened in Indianapolis, Rev. Arnett was elected 17th Bishop of the AME Church. A member of the Ohio General Assembly too, he was an early advocate for outlawing "Jim Crow" schools. He was successful in getting the Governor and the Ohio Legislature to approve a bill that authorized the State to give financial assistance to Wilberforce University for the benefit of its Industrial School.
Wilberforce University had been founded in 1856 when the AME Church purchased land at Tawawa Springs, near Xenia, Ohio. The institution was named in honor of the 18th century abolitionist William Wilberforce and remains the oldest, private historically black university in the United States.
Rev. W.B. Lewis arrived at Brown Chapel in 1870 from the Xenia Conference and in 1871, Rev. J.A. Nelson was transferred to Brown Chapel from the Philadelphia Conference. By now, Brown Chapel was one of the largest churches in the Walnut Hills. The congregation was growing and a decision was made to purchase a lot on which to build a church. The site chosen was located on the east side of Park Avenue, between Chapel Street and Lincoln Avenue. A lot was purchased from Mrs. Lillian Harrison for $3,500.
Succeeding Rev. Nelson in 1872 was Rev. Jeremiah Lewis, appointed from the Chillicothe Conference. He was another dynamic and popular minister who served with dignity and honor. During his tenure, the church had two Sunday School superintendents and Rev. Lewis was the missionary president and Frank Reeder, the vice president. Ten years had passed since the formal organizational meeting was held at the home of Peter Clark and important formative years at Brown Chapel had occurred; from slavery to freedom and from meeting in homes to attending church. Now property had been purchased for another church.
In 1877, Rev. T.W. Maxwell, a theological student from Lincoln University in Philadelphia, arrived to assume the pastorate of Brown Chapel. It was through his hard work that the church at 2908 Park Avenue was completed and a parsonage was purchased at 2910 Park Avenue. Rev. Maxwell, who finished his studies at Lane Seminary, endeared himself to the congregation. His son, Rev. Harry Maxwell, followed in his father's footsteps and also became an AME minister. For a number of years, he was a presiding elder in Cincinnati and Columbus.
Rev. Charles Bundy served as pastor from 1884 to 1887. The Court House riot took place downtown in 1884 and at that time, it was one of the most severe race riots to occur in the United States. A white man was sentenced to prison and a black man was sentenced to death for committing the same crime. Fifty-four people were killed and 300 persons were wounded. Brown Chapel felt the impact of this event as did all area African American churches and prayed for equal justice and peace in the city.
In 1895, Rev. William Johnson was appointed pastor followed by Rev. Ira A. Collins in 1899 as Brown Chapel continued to grow. By the turn of the century, the church was well established with some of the most notable families in Cincinnati as its members. In 1900, Bishop Arnett was assigned to the Third District as the Presiding Prelate and remained here until 1904. The Cincinnati Federation of Colored Women's Clubs supported a free kindergarten at Brown Chapel to benefit working mothers in 1904 and this project proved to be so successful it was later made a part of the Cincinnati Public Schools. In March 1925, the Club went on to open a 17-room home at 1010 Chapel Street for young women from the south looking for work in the city.
In 1915, the church was under the leadership of Rev. T.D. Scott, who was said to be very dignified. Prior to coming to Brown Chapel, he had been assigned to Allen Temple after serving as a chaplain in the U.S. Army and a faculty member at Wilberforce University. When Rev. Scott left in 1917, he was succeeded by Rev. Paul J. Blackburn, a very progressive and popular minister who was known for visiting the sick and shut-in whether they were members of his church or not. He established many organizations at Brown Chapel.
He organized the So-Re-Lit Club on March 29, 1920 for the young women of the church. The letters in the club's name stood for "Social, Religious and Literary". The club became well known for its dramatic productions, original plays, skits and pageants. This organization sponsored annual recognition programs for church members with 50 years of service or more and Thanksgiving dinners at the Home for Aged Colored Women. Club members later furnished the Ladies Lounge when the present church was built.
In addition to his activities at Brown Chapel, Rev. Blackburn organized St. Paul AME Church in Milford, Ohio on December 18, 1921. He was followed by Rev. Robert Lee, a former presiding elder, who died shortly after assuming his assignment to Brown Chapel. Rev. Pleasant S. Hill finished his term and remained at the church until 1930.
Rev. Hill, a graduate of Branch Normal College was a former professor at Payne Theological Seminary. It had been organized in 1871 by the Trustees of Wilberforce University and in 1874; it was incorporated as an independent institution. Many of Brown Chapel's pastoral leaders either studied at or graduated from Wilberforce University or Payne.
Rev. Hill had pastured several AME churches in Arkansas before his assignment to Brown Chapel and once here, he raised funds to burn the mortgage for the property at 2908 Park Avenue. On September 17, 1924, he provided the leadership as the church purchased the present property on Alms Place from Maria Longworth Storer, the ceramic decorator who founded the Rookwood Pottery Co., for $6,000. Lane Seminary still owned the land however and on October 21, 1924 the Trustees granted permission for a church to be built.
The new church was to be built across the street from Douglass School which then stood on the corner of Alms Place and Chapel Avenue. By state law, African Americans were excluded from attending the city's schools (although they paid taxes for them) and this building, originally built in 1860, was not only a school for colored children but a community center for the African American neighborhood that lived around it. Enrollment increases led to the building of another school in 1872.
In 1902, the school was named in memory of Frederick Douglass the orator and champion for emancipation. Yet another school was built in 1910 (below) that was a show place of modern facilities. Its five stories contained a 500-seat auditorium, a doctor's office and public library, carpenter's office and open air classrooms. Douglass enrolled African American students from all over the city and attracted the best black teachers. It was demolished in 1981 and the building located at 2825 Alms Place was erected.
At this time, an officer and member of Brown Chapel was making world-wide news. DeHart Hubbard (below) became the world champion broad jumper as a member of the 1924 U.S. Olympic team that was held in Paris. He was the first African American to win a gold medal in an individual event. The son of a chauffeur, he was a graduate of Douglass School and Walnut Hills High School (which was then located around the corner from Brown Chapel on Ashland and Burdett Avenues) and the University of Michigan, he was later employed by the Department of Colored Work for the Cincinnati Recreation Commission, remaining there until 1941.
Mr. Hubbard went on to found the Cincinnati Tigers, a professional African American baseball team that later joined the Negro American League. Later, he became an outstanding bowler and was the president of the National Bowling Association, another African American League. He moved to Cleveland where he died in 1976. He was posthumously inducted into the National Track Hall of Fame in 1979.
The cornerstone of the Alms Place church was placed on Sunday, August 29, 1929. It was said that this was one of the hottest days of the year as Mrs. Sarah Smith turned "the first bit of earth" for the building. The parsonage at 2910 Park Avenue was sold to Mrs. Lucy Friason for $6,500 and plans were set to build a new one next to the church. This plan eventually failed because of the Depression. In 1930, our lower level was completed and the congregation moved into its third place of worship.
Brown Chapel had continued to grow as the community of Walnut Hills grew. By 1930, considerable numbers of black families relocated to the neighborhood displaced from the over-populated West End by the construction of Union Terminal and public housing projects. Walnut Hills was one of the communities open to them and it became one of the best areas for middle-class black families to settle in.
Rev. James S. Hatcher followed Rev. Hill as pastor, serving from 1930 – 32. Despite the Depression, he instituted the Benevolent Fund with Walter Armstrong Sr. serving as its first chairman and combined the Senior Choir and the Brown Chapel Choral Group under the name of the Brown Chapel Senior Choir, with Georgiana Smith as its first director and organist. Initially, the new choir wore black robes with white scarves and later changed to navy blue robes with white scarves.
At some point during this time, Francis H. Gow, the son of a South African mother and an American father, played the organ for the Senior Choir. At the 1956 General Conference in Miami, Florida, he was elected the 56th Bishop of the AME Church and was the first elected African Bishop.
Rev. Hatcher's wife took an active role in the church too. She saw the need for a group to furnish flowers for the pulpit each Sunday and then take them to the sick and shut-in. This organization was called the Sunshine Club and the practice of having fresh flowers on the pulpit continued until 1985.
In 1932, Rev. Scott was re-assigned to Brown Chapel (making him the only pastor assigned twice at this church) and brought with him the same spiritual influence and guidance with which he had previously served. In 1935, Rev. C. Baker Pearl arrived and remained until 1938. An active force in the Cincinnati Chapter NAACP, he organized the Second Stewardess Board in December 1934. Under his administration, on May 3, 1938, the mortgage for the lower level of the church was burned (Rev. Scott and congregation, below).
Rev. C.T. H. Watkins served from 1938 – 1941 and named Alma Hudson the first woman Sunday School superintendent and Bertha Frye, the first woman trustee. Viola Perkins who served as the local Women's Missionary Society president, later became the first lay woman to be elected to an executive office, that of statistical secretary, in the Ohio Conference. Rev. Watkins also formed the Associated Club and the Youth Council.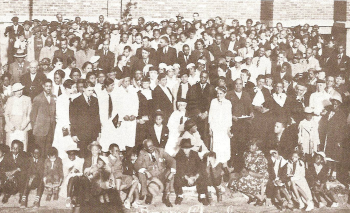 Mrs. Geraldine Thornton was the Youth Council's supervisor. She also organized the Richard Allen Youth Council of the AME churches in Greater Cincinnati. A resident of Walnut Hills, she was renowned in her own right. In 1969, she was named a Cincinnati Enquirer Woman of the Year. Interested in dramatics, she and members of the Council performed in many plays she wrote and directed, on the lower level stage.
The dynamic Rev. Frank R. Veal arrived in 1941 and revitalized the church. The lower level of the church was still being used for services and he raised funds via the Sacrificial Club, organized in April 1943, to build the upper level sanctuary. Members were asked to sacrifice $1 each week and remarkably, over $35,000 was raised. Another fundraising project, a Miniature Annual Conference, was led by Bishop Frank Madison Reid and with these funds the Building Fund was established. He also formed the Ladies Aid organization and the Gospel Chorus in 1943. Mrs. Hattie Lee was the choir's first president and in addition to spreading the gospel through song, this choir visited and sang for sick and shut-in members. Resplendent in emerald green robes with gold scarves, this choir had a number of fine soloists. Rev. Veal was assigned to Allen University before seeing his dream of building the upper level to fruition. He later returned to Cincinnati as pastor of from Bethel AME, Lockland
     Brown Chapel continued to experience phenomenal growth as African Americans continued to relocate from the south to Cincinnati, now motivated by postwar opportunities. Many church members, formerly from North Carolina, South Carolina, Alabama, Mississippi and Florida, settled in Walnut Hills, within walking distance of the church and Douglass School where their children attended. Walnut Hills became one of the premiere African American communities in Cincinnati with many flourishing black businesses such as doctor and dentist offices, a pharmacy, a print shop, dry cleaners, beauty and barber shops, grocery stores, restaurants, clubs and a hotel.
Rev. Dr. George T. Sims (right) was assigned to Brown Chapel in 1948. He met the challenge of building the upper level sanctuary and on Sunday, December 16, 1951, he led the congregation on a march from the old Melrose YMCA (where services were held until the upper level was built) to the new church at 2804 Alms Place.
Dedication services were held for the $300,000 church with a seating capacity for 640. The new pulpit had built in choir stands which were entered from the rear. (It was quite a stir in the choir when members designated specific seats for themselves.) An organ was purchased and dedicated on January 13, 1952. It was in front of one choir stand and a piano in front of the other stand. The pulpit chairs faced each other on either side. Many more of the church's furnishings were donated by individuals and organizations. This was a dream come true for the congregation and a commemorative plate was produced for the occasion with a drawing of the new church on it.
By 1952, the AME Church had grown significantly in Ohio. At the 1952 General Conference in Chicago, Illinois, the Ohio and the North Ohio Conferences were divided to form the South Ohio Conference. Many Brown Chapel members were to hold offices at that level. Under Rev. Sim's leadership, Eureka Harrison (Willis) organized the Young Peoples' Division at Brown Chapel and was later elected YPD supervisor of the South Ohio Conference in 1956.
Rev. Sims organized the Willing Workers Club in September 1952 to keep up with the many needs of the church, both spiritual and financial. The Club held annual teas and fashion shows but their most popular and lucrative project was the Baby Contest which featured youths from all over Cincinnati. Throughout the years, funds raised were used to carpet the sanctuary and stairways and to provide a water fountain in the lower level.
Coincidentally in 1956, another AME Church moved to Walnut Hills, just blocks away from Brown Chapel on the corner of Kemper and McMillan Streets. St. Paul AME Church, established in 1929, had been located in downtown Cincinnati. It was once pastured by Rev. Elmer M. Martin, from 1947 – 1951. This Rev. Martin, a graduate of Payne Theological Seminary served in Cincinnati before returning home to the 13th District. In 2010, another Douglass School was built at 2627 Park Avenue., ironically, on property owned by St. Paul AME Church, which relocated to Fairfield, Ohio.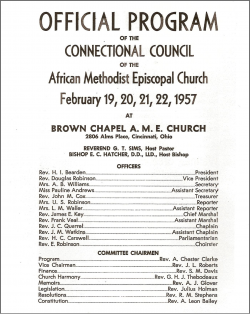 Brown Chapel made AME church history on February 19 – 22, 1957, when it hosted the Bishop's and Connectional Council. In his greetings, Rev. Sims said,
Bishops and other clergy members, AME church officers and their wives were in attendance, representing many states throughout the U.S. and countries in Africa. The 1957 souvenir program reflects the active participation of future Brown Chapel pastors, Reverends Henderson, Maura and Hughey and then current members, Elizabeth Buford, Samuel H. Bulluck, Eureka Harrison (Willis), Judith Payne and Geraldine Thornton. Mr. Bulluck was the South Ohio Lay president and presided at the February 17, 1957 Laymen's Meeting. Throughout the week, Brown Chapel's Senior and Gospel Choirs sang, accompanied by Loretta C. Manggrum.
All of the Bishops, General Officers, AME college presidents and members of the Connectional Council were honored at a banquet on February 19th at the Manse Hotel, 1008 Chapel Street and a semi-formal tea was held for all of the missionaries at the Women's Federated Club. African Americans were not welcome at other Cincinnati hotels and the Manse Hotel, now an apartment building, was black owned and often the center of activity in Walnut Hills as many banquets, wedding receptions and dances were held there. The Council's opening service and meetings were held at Brown Chapel for the 4-day event. To this day, no other AME church has hosted a Bishop's or Connectional Council meeting.
In 1957, Rev. Sims was assigned to St. James AME Church in Cleveland. He is remembered as one of the most progressive pastors ever to serve at Brown Chapel. The present church is built on his legacy.
Remember the days of old, consider the years of many generations.
Deuteronomy 32:7
The Present Church
Rev. Jefferson Winston Henderson was assigned to Brown Chapel in July 1957. The son of a minister, he was formerly the pastor of Calvary AME Church in Braddock, Pennsylvania and he and his wife Frances, (below), moved to Cincinnati with their three children, Gloria, Sylvia, and Jefferson Jr. Rev. Henderson received his liberal arts training at Indiana Central College and his theological training at Payne Seminary. He later received a master's degree from the University of Cincinnati.
     An accomplished musician, Rev. Henderson showed a keen interest in the community and served as the first vice president of the Cincinnati Chapter NAACP. He also was the president of the AME Ministers Alliance. Serving with him at Brown Chapel were Rev. Lionel Williams Sr., Rev. James M. Reed (later assigned to Stephens AME Church), Rev. Charles Johnson and Rev. Maurice Phillips.
Under his leadership, many changes at Brown Chapel occurred. He instituted scout programs for girls and boys and by 1989, Pack 4, Troop 366 was the oldest black Boy Scout troop in the city. He also started a second church service at 7:45 a.m. for which he often played the organ. This service continued until 2005. Rev. Henderson introduced the idea of congregational participation to paint and redecorate the church, saving hundreds of dollars. He appointed women at both services to welcome visitors and Ernestine D. Toliver was one of them.   During his tenure, a stained glass window, donated by the Renfro Funeral Home was installed in the center pulpit wall in memory of William Glenn and St. Julian Renfro. And, another parsonage was purchased located on 1911 Crane Avenue.
Rev. Henderson set up an equipped business office and employed a church clerk, Anna Mae Hill. Many have held that title since: Johnnie McBride, Pamela Y. Foster, Carolyn Brown, Nellie Hughey, Gino Williams, Sheila Coggins-Gray, Doris M. Stokes and PJ Baker, to name a few.
The Youth Council continued to be active under Rev. Henderson, sponsoring many car washes, candy sales and canned food drives. Rev. Henderson utilized acolytes at the 11 a.m. service to light the candles and in 1964; a Youth Choir was begun by Ernest F. McAdams Sr. which sang monthly wearing white robes with black skirts or pants.
Rev. Henderson started several organizations that played key roles in the life of the church. The Crusader's Club began in May 1958, to promote Christian fellowship among young women who were attending church but not actively participating in it. In 1963, this organization's name was changed to the Camille Hood Crusader's Club following the death of its organizer Mrs. Hood. He also established the Social Service Department to provide diversified social services within the church. Marguerite L. Hall was a charter member of this group.
Rev. Henderson formally organized the Lay Organization at Brown Chapel in 1968 with Samuel H. Bulluck serving as its first president. Prior to this time, Mr. Bulluck, known as "Mr. Walnut Hills", had served as a Lay president at various meetings throughout the conference. Bulluck Condominiums at 1402 Locust Avenue are named in his honor. Mr. Bulluck founded the Walnut Hills Area Council in 1968 and fought for decent, affordable housing for families and senior citizens. Ruth Lowe McLendon was an active lay member during this time and she too was a Brown Chapel Lay president and South Ohio Conference Lay president, a position she held for eight years. The group of Brown Chapel members who traveled with her were known as the "Brown Chapelites".
Rev. Henderson played a leading role at the General Conference which was held at the Cincinnati Gardens in 1964 with the Rev. Dr. Martin Luther King as the opening speaker. Dr. King, at 35 years old, was the youngest person to receive the Nobel Peace prize and by the time he arrived in Cincinnati, he had led the 1963 March on Washington at which his "I Have a Dream" speech became an indelible part of American history. The Gardens was packed with people to see and hear him for this occasion.
Rev. Henderson moved to Philadelphia in 1970 having earned the distinction of being the longest serving pastor at Brown Chapel at thirteen years. He returned to Cincinnati in 1989, uniting with Quinn Chapel AME Church until his death in 1995. Rev. Arthur L. Maura succeeded him, accompanied by his wife Jean, and their children Tommy and Ellen. He had served at other churches in the area and he and his family moved to a parsonage located on 1630 Miramar in Roselawn.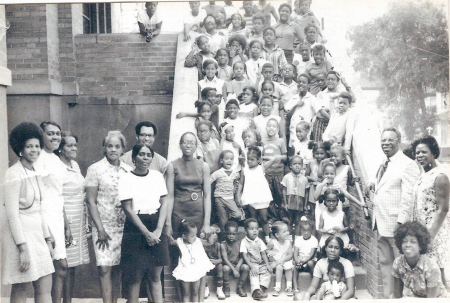 By the 1970s, more than 80% of Walnut Hills's 14,000 residents were African Americans but the neighborhood was beginning to change. Many Brown Chapel members had experienced increased prosperity and as racial discrimination eased, they moved to suburban neighborhoods and out of Walnut Hills. They commuted to church however and continued to support their church. Many lower income families moved to Walnut Hills and did not affiliate with any church nor did they support local businesses in the area. The neighborhood around the church was changing.
In 1978, another Brown Chapel member was named an Cincinnati Enquirer Woman of the Year. Dr. Loretta Cessar Manggrum, (left) a Walnut Hills resident, had served as the church organist and the director of the Senior Choir. She and her husband had owned the Manggrum Drug Store at Park and Chapel Streets in the 1920s. She broke the color barrier at the College Conservatory of Music, University of Cincinnati, when she became that college's first black student. In 1953, she was awarded a master's degree and in 1984, an honorary doctorate, becoming the oldest person ever so honored by the University.
Dr. Manggrum was a composer too, and the Senior Choir's afternoon programs often featured her compositions of Watch, Behold and Blessed is theMan. She was the organist when the choir sang Handel's Messiah and Cherubin's Requiem Mass directed by Dr. Samuel Barber. Her music is cataloged in the U.S. Library of Congress.
By now, the 7:45 a.m. Sunday service was very popular throughout the city and persons from other churches, especially those who worked third shift, regularly attended it. In 1980, Rev. Maura established the Hostess Club to serve coffee after this service and a full breakfast on Easter Sunday. Ernestine D. Toliver with Mary Scott, Cecelia Jackson, Mattie Lee and S. Helen McCray comprised this group which was renamed the Hospitality Club in 1991.
The Reverends Douglas Barnett Jr., Mattie Newell, Harry Gopaul and George W. Larkin served as associate and assistant pastors with Rev. Maura and under his leadership, several members received the call to preach: John Douthitt III (currently the pastor at St. Paul, Circleville), F.R. Thompson, George M. Robinson Jr. and James Walker became active ministers in their own right. In 1982, Rev. Maura left Cincinnati after being assigned to the Pittsburgh Conference. He became a presiding elder there until his death in 2006.
Rev. Winton M. Hill III arrived in 1982 with wife Damaris and their daughters Deedee and Edith. Baby Lillie was born after they arrived. Reflecting current events of the time, Rev. Hill had served as a chaplain in the U.S. Navy and saw conflict in the Persia Gulf. He too was a graduate of Wilberforce University and Payne Theological Seminary.
Men's Day 1983 was very exciting with Archie Griffin, running back for the Cincinnati Bengals, as the keynote speaker. Rev. Hill instituted the popular Recognition Banquets for members with fifty or more years of service and set up a Brown Chapel bowling league. He left Brown Chapel in 1985, to pastor a church in New Jersey. He is currently a presiding elder in the Philadelphia District.
Rev. Ulysses A. Hughey was appointed pastor in 1985. Originally from Pennsylvania, he had graduated from Wilberforce University and Payne Theological Seminary. He was a professor at Paul Quinn College in Waco, Texas and was named president at Payne from 1977 – 1986. His family included his wife, Nellie, a son, U. A. Hughey Jr. M.D., his mother, Eunice and sister, Eunice. They moved to a parsonage at 5302 Laconia Avenue in Bond Hill.
Rev. Hughey loved the church, it was his passion. He could be found on the "cutting edge" speaking out for change and progress throughout the conference. His vision for Brown Chapel was equally far reaching and is reflected in the church we know today. The brightly colored stained glass windows were added which complemented the newly red cushioned pews; free standing communion rails and a concert grand piano were purchased; and, air conditioning was installed in the sanctuary and lower level. Rev. Hughey (who loved construction work too) and member Jim Curry installed the marble pulpit flooring; built the glass partitioned wall and doors at the rear of the church; added the glass doors on either side of the church; and created new church and pastor's offices (with bath) from what had formerly been one large room.
Extensive remodeling was done in the kitchen and both lower level restrooms. The church purchased real estate to the north and east of the church and a shopping center in Winton Hills that was to be a career training center. By 1989, the mortgage for the roof was paid off. Brown Chapel was not a church to stay in debt long. Rev. Hughey established the Thursday morning Thanksgiving service that was attended by AME church members throughout the city. Not weary yet, he purchased a printing press and in 1989, published a church newsletter, The Brown Chapel Chimes.
With these changes, Brown Chapel was well prepared to host the 36th Session of the South Ohio Annual Conference at which Lydia Jackson was consecrated to the office of Deaconess. Mrs. Hughey was active in her own right too. She organized and directed the Cherub Choir in 1987. Rev. Hughey inspired others to serve with him and the associate and assistant ministers included Rev. Mattie Newell, Rev. William Coggins, Rev. Gladys Johnson, Rev. George M. Robinson Jr. and Licentiate Marcus Jordan.
The Camille Hood Crusaders Club, now over 22 members strong, undertook its most ambitious project yet in 1987 when it sponsored the Bobby Jones and New Life concert, from Nashville, Tennessee, at the Emery Theatre. Gospel music entertainment shows were just beginning to make their mark in the African American culture and the Crusaders Club was at the forefront with this city-wide event.
In 1989, the Crusaders Club, led by Paul and Carol Davis, made church history again when they coordinated a cruise on the Chandris Fantasy Cruise ship Brittanis. Twenty-one members sailed to the western Caribbean and enjoyed a fun-filled seven day trip. Led by David Fowler, church pianist, Brown Chapel members formed an onboard "Cruising Choir" and won first place on Talent Night. Two more church Caribbean cruises occurred in 1991 and 1993.
Rev. Hughey organized the Southall Stewardess Board in December 1989, following the sudden death of Lenzy Southall Sr. This board was formed for the young women of the church and their signature projects were the Breakfast with Santa and the Father's Day recognition bulletin. The side door leading to the parking lot was installed in 1990, in memory of James Cunningham who passed unexpectedly while in South Carolina visiting family.
In April 1992, Rev. Hughey merged the Senior and Gospel Choirs into the United Chapel Choir with Lovell Fitzpatrick Jr. and Jack Ramsey as co-chairs and Mildred James-Payne and Ernest F. McAdams Sr., as musical directors. A Junior Usher Board organized by Ola Rutledge (Cargile), went into service in 1992. After the tragic death of member Shane Curry, of the Indianapolis Colts, a Communion Table Baptistry was donated by his family in his memory.
Brown Chapel members have distinguished themselves at the Third District level of the AME Church. In 1992, Doris L. McAdams was elected Promotion, Missionary and Education Director of the Third District Women's Missionary Society. She was one of four Third District Life Members at Brown Chapel, serving with Eula L. Miles, Eureka Harrison Willis, and Judith I. Payne. Life Members are missionaries who have 25 consecutive years of service.
Rev. Hughey's untimely death in 1995 marked the end of his active yet memorable ten year assignment at Brown Chapel. Rev. Coggins was appointed to lead the church until the next pastoral assignment was made. Ordained in 1989, he and his family, wife Ruth, daughters Alicia, Cheryl and Sheila, and son Tony, had been members of the church since 1953. Rev. Coggins had served as a Steward and Sunday School teacher and his wife, was a Trustee, missionary and club member.
Rev. Dr. James H. Harris was appointed senior pastor in 1995. He too was a graduate of Wilberforce University, Payne Theological Seminary and the United Theological Seminary. His family included wife Gloria and grand-daughter Marshe. A parsonage on Oakstand in Forest Park was purchased and the shopping center in Winton Hills sold. Ministerial staff included Rev. Louis Parham, Rev. Coggins, and two persons who were previously members: Herndon W. Anderson and Cheryl L. Coggins.
Rev. Anderson and Evangelist Coggins, both Sunday School teachers and Bible Study leaders, co-chaired and led two street fests and several outdoor "big-tent" revivals to open Brown Chapel's doors to the community. Gloria Harris established the Voices of Christ in 1995 so young people could participate in the Sunday morning worship service. Several of them are active adults in the church today: Samantha Rall, Eboni Rall, Davonna Jones-Flowers and Eric Dorsey.
Rev. Harris initiated the practice of devoting the 11 a.m. service to the church school for Easter and Christmas programs for the entire congregation to experience. Mrs. Harris and Lesley C. Wardlow organized two other groups, the Loving Arms which held fundraisers to assist with church finances and the Bountiful Blessings Committee, a group for Stewards and their spouses.
At the urging of several members confined to wheel-chairs, Ruby G. Embry, Lydia Jackson and Paul Toliver, funds were raised to build a ramp from the parking lot to the church. It was dedicated in 1999 and named the Paul Toliver-Marguerite Hall Ramp. In 2001, the front doors of the church were replaced in Rev. Coggins' memory. Rev. Harris was assigned to pastor a church in Cleveland in 2004 and is currently a presiding elder there. He was followed by Rev. Sylvester Alexander, from Dayton, Ohio, who remained at Brown Chapel for just one year. It was a busy year however as the church hosted the 54th Session of the South Ohio Annual Conference.
Rev. Elmer S. Martin, son of Rev. Elmer M. Martin, the former pastor of St. Paul AME Church, arrived in November 2005 from Payne AME Church in Hamilton, Ohio. A native of Chattanooga, Tennessee, he received his Bachelor of Science and Master of Ministry degrees from the International Bible Institute and Seminary. He began his career in the ministry in Tennessee more than 40 years ago and pastured or served as a presiding elder at churches throughout Tennessee and Kentucky. In the Greater Cincinnati area, he was assigned to Payne Chapel AME Church in Hamilton in July 1991. While there, he was very active in the city and was a member of many community boards. He and the Payne congregation built the new church there and remodeled the old one into a daycare center. He is currently a South Ohio Conference Trustee.
Rev. Martin came to Brown Chapel with his wife Patricia (Trisha), daughter Heather Mays and son-in-law Kevin Mays. The energy he generated was just what Brown Chapel needed. In seven months, on June 18, 2006, ground was broken to expand and black top the church parking lot with Bishop Robert Vaughn Webster in attendance. Shortly thereafter, new chandeliers, newly painted walls, carpeting and phase one of the sound system were installed in the sanctuary and the church moved into the realm of e-communications with wireless internet service, a web site and a Facebook page. A Welcome and Appreciation Banquet was held Friday, September 29, 2006 at Greater Emanuel Apostolic Temple in recognition of his leadership. Following an accelerated planned giving program, the parking lot mortgage burning ceremony was conducted by Bishop C. Garnett Henning Sr. on Sunday, February 26, 2012.
In 2008, a bus was purchased and put into service transporting members of Brown Chapel to and from church and to church conferences in the Third District. Property at 2802 Alms Place was purchased and the house there demolished resulting in Brown Chapel owning all of the western side of Alms Place between Chapel and Myrtle Avenues. Plans are now underway to repair the front steps of the church, purchase a new organ and reinstate the Boy Scout troop. Rev. Martin's leadership, bolstered by his love for the AME church, his down to earth nature and his generosity have allowed Brown Chapel to shine in its 150th year. His campaign to "move from membership to discipleship" revitalized members, so much so, the church is referred to as the "New" Brown Chapel. In 2005, member Dwayne Walker was called to preach continuing the church's legacy of producing pastors.
Rev. Martin's motto, "Life a changeable thing." is often repeated by many. He and Mrs. Martin are known for visiting the sick and shut-in whether they are members of the church or not. Mrs. Martin, an accomplished graphic designer, has used her talents to enhance church media and his talent for singing is renowned throughout the conference. A people person, he began the Tuesday prayer meetings at Lincoln-Crawford Nursing Home for residents, established Family Nights at Brown Chapel and formed the Brown Chapel Chicks, a social group for senior ladies.
Rev. Martin has merged the Chancel, United Chapel and Youth Choirs into the Mass Choir and they sing in purple and gold robes. The Men's Chorus was reinstated by Ernest F. McAdams Sr. in 2006. All of the Stewardess Boards are now one Board.
The Chrysalis Praise Dance Ministry, established in March 2010, by Elaine Staples, has since won city-wide recognition. Charter members were Lauren Anderson, Eboni Rall, Davonna Jones-Flowers and Bre Matthews. This group performs monthly and has held two Veterans Day programs to honor those who served in the armed forces. Mrs. Staples has formed the Brown Theatre and directed members in productions each February for Black History month.
In 2011, Rev. Martin appointed Lesley D. Clemons the first female treasurer of the church. Three new organizations have been formed at Brown Chapel: The Sons of Allen, a fellowship for men of all ages; the Young Women's Ministry; and the Kitchen Committee.
 Throughout the past 50 years, Brown Chapel AME has operated with the support and encouragement of the Presiding Prelates in the Third District. Bishop McKinley Young was assigned at the 2012 Quadrennial Session of the General Conference in Nashville. Other Bishops have been:
| | |
| --- | --- |
| Cornal Garnett Henning Sr. | 2008 – 2012 |
| Robert Vaughn Webster | 2000 – 2008 |
| Henry Allen Belin, Jr. | 1992 – 2000 |
| Richard Allen Hildebrand | 1984 – 1992 |
| Vinton Randolph Anderson | 1976 – 1984 |
| Harold Irving Bearden | 1972 – 1976 |
| William Reid Wilkes | 1964 – 1972 |
| Eugene Clifford Hatcher | 1956 – 1964 |
| Alexander Joseph Allen | 1948 – 1956 |
We acknowledge too, some of the presiding elders who have served in the past 50 years: Elder Thomas, William Hodge, William Gazaway, Virgil E. Cummings, Elbert E. Matthews and Wilton E. Blake I.
_______________________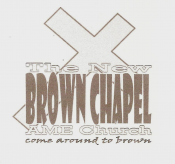 There is no ending as Brown Chapel's history continues. We all wish for a crystal ball to know what the future holds for her.
It is easy to understand how so many people in Cincinnati once had an association with Brown Chapel in one way or another. She has been a bulwark in the Walnut Hills community for 150 years and many have passed through her doors. She has anchored the faith of many in the struggle for freedom and equality. She has sustained the faith of many and inspired them to serve and achieve. She has made her own mark in AME Church history.
Certainly, there will be challenges to face in the future, but her leaders and congregation, some of the most loyal and dedicated members in the AME Church, have met them in the past and will meet them in the future. And, she shall continue to rise.
Brown Chapel AME Church
Pastors
| | |
| --- | --- |
| 1863 – 1866 | Rev. Phillip Tolliver |
| 1866 – 1867 | Rev. E. H. Pettegrew |
| 1867 – 1870 | Bishop Benjamin W. Arnett |
| 1870 – 1871 | Rev. W. B. Lewis |
| 1871 – 1872 | Rev. J. A. Nelson |
| 1872 – 1877 | Rev. Jeremiah Lewis |
| 1877 – 1879 | Rev. T. W. Maxwell |
| 1879 – 1884 | No Record |
| 1884 – 1887 | Rev. Charles Bundy |
| 1887 – 1895 | No Record |
| 1895 – 1899 | Rev. William Johnson |
| 1899 – 1900 | Rev. Ira C. Collins |
| 1900 – 1914 | No Record |
| 1914 | Rev. Coleman |
| 1915 – 1917 | Rev. T. D. Scott |
| 1917 – 1923 | Rev. Paul J. Blackburn |
| 1923 | Rev. Robert Lee |
| 1923 – 1930 | Rev. Pleasant S. Hill |
| 1930 – 1932 | Rev. James S. Hatcher |
| 1932 – 1935 | Rev. T.D. Scott |
| 1935 – 1938 | Rev. C. Baker Pearl |
| 1938 – 1941 | Rev. C. T. H. Watkins |
| 1941 – 1948 | Rev. Frank R. Veal |
| 1948 – 1957 | Rev. Dr. George T. Sims Sr. |
| 1957 – 1970 | Rev. Jefferson W. Henderson |
| 1970 – 1982 | Rev. Arthur L. Maura |
| 1982 – 1985 | Rev. Winton M. Hill III |
| 1985 – 1995 | Rev. Dr. Ulysses A. Hughey |
| 1995 | Rev. William Coggins |
| 1995 – 2004 | Rev. Dr. James H. Harris |
| 2005 | Rev. Sylvester Alexander |
| 2005 – Present | Rev. Elmer S. Martin |
Church records are incomplete. The years the following pastors were assigned is unknown: Reverends Artiepay, Bagnal, Farley, Furguson, Gee, William Johnson, Mills, Motemoore, Talbert, Thomas and Summer Williams.