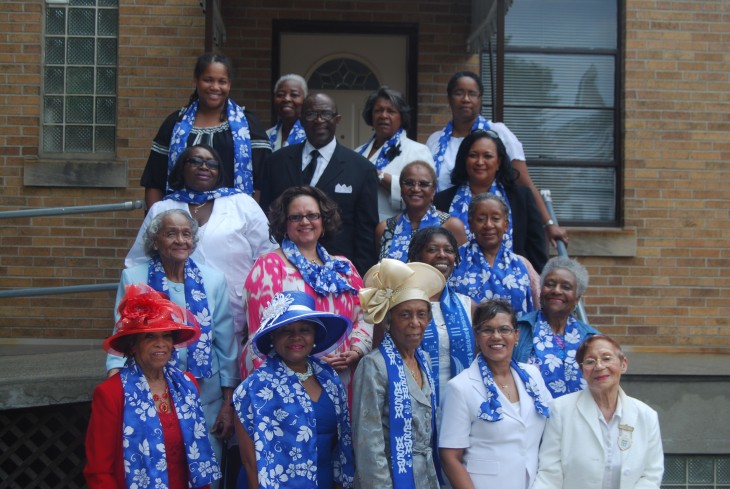 Our mission: We are called to strengthen our faith and sent to continue the ministry of Jesus Christ by service and witness to the world.
Rev. Benjamin W. Arnett, pastor at Brown Chapel and later elected 17th Bishop of the AME Church, formally organized the Women's Missionary Society at Brown Chapel in 1869 although missionaries had worked at the church since 1862. This organization has remained active since that time. Most local missionary presidents are the wives of the current pastor.
Brown Chapel AME presidents in the past have included: Mesdames Blackburn, Lee and Pearl. Ms. Lillian Scott served as president when her father was pastor and Viola Perkins was elected under Rev. Watkins. Other presidents have been: Eureka Harrison Willis (1941 – 48); and Bertie Biggs, who served under Rev. Sims and Rev. Henderson. Elizabeth Buford was president until 1965, succeeded by Judith Payne, who remained in office until 1979. Jean Maura held the office from 1979 – 1982. Eureka Harrison Willis was president for a second term, from 1982 – 1984 and was followed by Susie Lawson who held the office from 1984 – 1987.
In January 1988, Helen Southall was elected president and remained in office until 1995 followed by Emma L. Perry. Gloria Harris served until her husband was transferred in 2004. She was followed by Leona Walker who remained in office until 2006. Ellen J. Cunningham is the current president.
Eureka Harrison Willis organized the Young Peoples Division at Brown Chapel in 1948 and she remained the local YPD supervisor until she was elected the South Ohio YPD supervisor in 1956. Following her death in 1992, the society was named in her honor.
The society has had four Life Members, women who have remained active missionaries for 25 consecutive years: Judith Payne, Eureka Harrison Willis, Eula L. Miles and Doris L. McAdams. Mrs. McAdams also served as the PME Director for the Third Episcopal District.
During Mrs. Cunningham's tenure, the WMS has focused on community service. Dinner is prepared at the Walnut Hills Soup Kitchen each fifth Saturday; lunches have been prepared for Project Connect students; and, Harvest dinners have been held each November for all Walnut Hills community members. The society contributes monthly to the support of our daughter, Hana Ergicho in Ethiopia. The society holds annual days on the last Sunday in July and regularly recognizes members who exemplify the ideals and mission of the WMS and the African American Heritage Dinner is held annually as a fundraiser. The group is fully active in the Cincinnati Area District and the South Ohio Conference and serves Mexican foods at the annual South Ohio Conference International Tea. Olivia Ratney is the current president.
Lesley D. Wardlow is Brown Chapel's YPD supervisor. Other members who have held this position in addition to Mrs. Willis have included Helen Southall, Lucille Thornhill, Nancy Johnson, Marilyn Hawkins and Doris L. McAdams.
---
Click here to read our 2013-14 Conference Year In Review